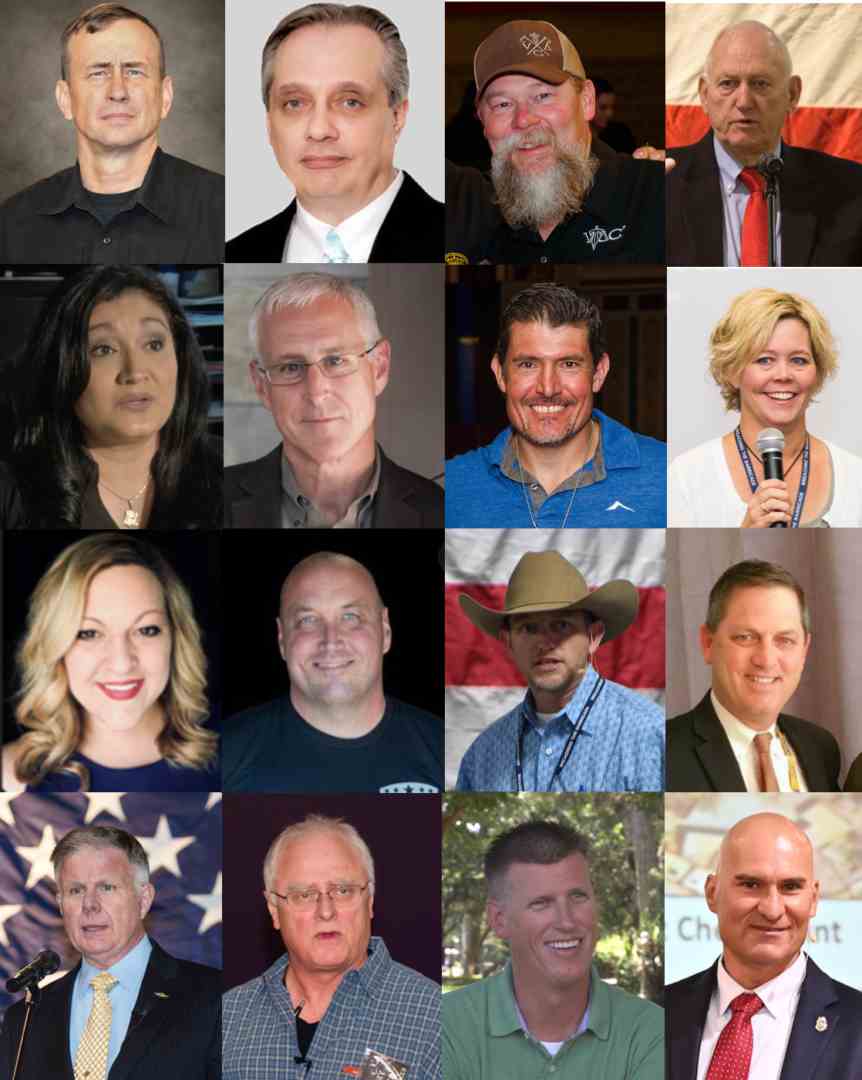 Encouragement From
Those Forged In The Fire.
Below you will find a number of presentations from men and women who have been tried and tested in the trials and fire of battle and of life.
For life lessons in LEADERSHIP, see presentations from Special Forces Operators Lt. General (Ret.) Jerry Boykin, Sgt. Major (Ret.) Kyle Lamb (Ret) or Capt. Frank Rodriguez. Kris "Tanto" Paronto ... Other excellent presentations from Maj. Travis Yates, Deputy Chief (Ret.)Thomas Lemmer, CA Highway Patrol Chief (Ret.) Brent Newman and others,
Addressing the challenges of law enforcement FAMILY LIFE, you will find CA Highway Patrol Spouse Vicki Newman, San Antonio PD Spouse Allison Uribe, and Elkhart Co. SO Spouse Jennifer Lanzen.
For fresh inspiration and encouragement for cops experiencing their DARKEST HOUR, check out the presentations from Scott Brown (CA), Mike Kelly, Kevin Bernard (PA), and Houston Gass (TX).
For FRESH ENCOURAGEMENT and life-changing insight from those that have gone before, you see the excellent presentations of Officer Jimmy Meeks (TX) and MC Williams (CO).
To better understand the SPIRITUAL NATURE OF THE BATTLES you face and the evidence for faith, see the presentations from former LA County Cold Case Homicide Detective J. Warner Wallace and the 2015 presentation from Jim Bontrager.
Don't miss this year's Breaching the Barricade Conference (www.breachingbarricade.com). And please don't hesitate to contact us if we can be of encouragement. STAY IN THE FIGHT ... YOU ARE MAKING A BIG DIFFERENCE!


Jim Bontrager - Morality, the Foundation of Integrity
Jim Bontrager - Evil's Primary Tool to Defeat You
Jim Bontrager - Leadership "Sins" and Avoiding Them
2021 BREACHING
THE BARRICADE CONFERENCE - VIDEOS
2021 Breaching The Barricade Conference
Jessie Watts: Maintaining Constitutional Fidelity in a World Filled with Turmoil
Jenny Lanzen: Verbal Judo for Spouses
Dave Sanderson: From Turmoil to Triumph
Courageous Communication in a
Woke-Driven Society
2021 BREACHING
THE BARRICADE CONFERENCE - AUDIO FILES
Warnings from our Past - Jim Bontrager:
High Noon, Countering a Tragedy Free Policing Standard - Thomas Lemmer:
Leadership, An All Levels Responsibility - Thomas Lemmer:
The Kevlar Effect - Allison Uribe:
Addressing Challenges in Law Enforcement Parenting - Allison Uribe:
Courageous Communication in a Woke Driven Society - Travis Yates:
2020 BREACHING
THE BARRICADE CONFERENCE
"The Oath and the Vow" - Allison Uribe
"Making a Difference" - Frank Rodriguez
"Robust Leadership in an Age of Cowardice" - Jim Bontrager
"Victory Principles for the Coming Battle" -Jimmy Meeks/ Jim Bontrager
"Post-Traumatic Stress Injury" - Frank Rodriguez
"If I Had a Do-over" - Jimmy Meeks
2020 Breaching the
Barricade Conference - Audio Files
2019 BREACHING
THE BARRICADE CONFERENCE
Is There Not a Cause? - Jim Bontrager
Defeating the Profession's Deadliest Enemy - Jim Bontrager
Off the Cuff - Kris "Tanto" Paronto
Policing in a Turbulent Era - David Clarke
Lessons for Leadership in a New World - Kris "Tanto" Paronto
Constitutional Fidelity & Homeland Security - David Clarke
Q&A - Clarke | Bontrager | Steele
2018 BREACHING
THE BARRICADE CONFERENCE
Philly PD Officers Kevin Bernard and Mike Kelly
2017 BREACHING
THE BARRICADE CONFERENCE - AUDIO FILES
J warner Wallace Session 1
J Warner Wallce Session 2
Stacy & Martha Ettel Session 1
J Warner Wallace Final Session
Breaching the Barricade Q&A Session
2016 BREACHING
THE BARRICADE CONFERENCE
Opening Session - Jim Bontrager
Lt. Gen. Jerry Boykin - Session 1
Lt. Gen. Jerry Boykin - Session 2
Philadelphia Officer Mike Kelly
USMC Maj. Gen. Bradley Lott
2015 Word of Life Law
Enforcement Conference - Jim Bontrager